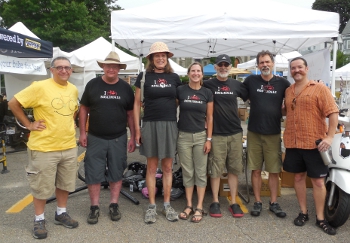 RozzieBikes at Bike Day at the July 19, 2014 Roslindale Farmers Market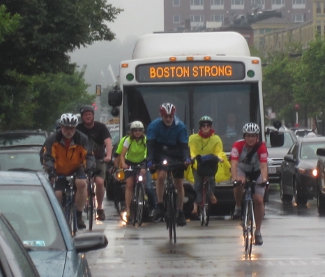 RozzieBikes biking to Bike Friday on June 28, 2013, two months after the Marathon Bombing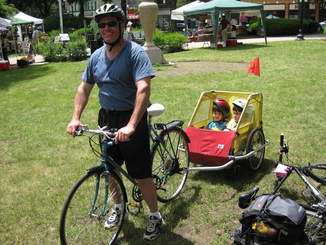 J.T., Elijah, and Jonah Lenoch in Adams Park before our 2009 Family Ride

http://www.rozziebikes.org
RozzieBikes is a neighborhood organization devoted to making the Roslindale neighborhood of Boston a better place to bike. We're interested in street improvements, bike parking, bike routes, bike lanes, and mixed-use paths.
A network of bicycle routes, lanes, and paths is growing which can connect cyclists and their destinations to make bicycling a more desirable transportation option. An advantage of the bicycle is that the road system can be used to bridge uncompleted portions of the network, so there is no need to wait until the system is "complete". The network grazes the edges of Roslindale as the Emerald Necklace, the Southwest Corridor, and Stony Brook Reservation. We need to connect the neighborhood!
Keep Informed!
Join our RozzieBikes email list on Google Groups
Visit us on Facebook Sunday, July 20, 2014: Bike to Deer Island
9:00 am: Depart from Adams Park in Roslindale Square
10:00 am from Paul Revere Park in Charlestown
Sign up on Facebook (not required).
A 40-mile ride to an interesting place in the middle of the harbor

Sunday, July 20, 2014: Boston's Cycling Craze, 1880-1900: author talk
4:00 pm Ferris Wheels Bike Shop, Jamaica Plain
Join us on Sunday, July 20th at 4:30pm for a talk and book signing with Lorenz J. Finison, author of Boston's Cycling Craze, 1880-1900: A Story of Race, Sport, and Society.   The books tells the story of how cyclists of all backgrounds made Boston a hub of nineteenth-century bicycling. Read the Boston Globe book review and let us know you're coming on facebook.

Sunday, July 20, 2014: Metropolitan Wind Symphony 6:00 pm: Pinebank, Jamaica Pond Bike down the Emerald Necklace for a free concert after the book signing

Tuesday, July 22, 2014: Tour de France Party Night!
8 pm-11 pm: Jeanie Johnston Pub, 144 South St., JP
Trivia contests for seasoned Tour fans
Tour de France 101, how to watch the Tour, the teams, the strategy
Raffles, Jeanie Johnston food and beverage, and FUN!
Sponsored by Ferris Wheels

Friday, July 25, 2014: Last Friday Pancake Breakfast Ride
7:30: Leave Adams Park in Roslindale Square
Join other local cyclists at Ferris Wheels Bike Shop for banana whole wheat pancakes, real maple syrup, O.J., and discussion of bikes and local cycling issues.
Meet your neighbors and enjoy a tasty, FREE breakfast courtesy of Ferris Wheels!